Gillian Vine looks at the line-up of new gardening books.
Houseplants are the big thing in gardening right now and three new books on the subject cover almost everything you want to know.
The Unkillables
Jo Lambell
OH Editions, hardback, $27.99
Among the 40 supposedly resilient houseplants in her book The Unkillables, English writer Jo Lambell lists peace lily (Spathiphyllum). I have bad news for her: I have killed not one but two peace lilies and have recently given my sick-looking survivor to a friend, whose care is decidedly better than mine.
In my defence, I have brought back from the brink a Cape primrose (Streptocarpus) another friend was going to bin, and have good-looking fuchsias I grew from cuttings, but neither gets a mention in The Unkillables.
Lambell also omits kalanchoe, one of the easiest of all houseplants, but her book does have quite a lot going for it nonetheless.
One of the best features is a chart of plant size, need for light and water, whether it purifies the air, whether it's safe for pets or children and its maintenance level on a scale of 1-8.
A surprise was to learn that aloe vera is not as safe as commonly thought. It's a great plant for applying to burns and bumps but is mildly to moderately toxic to cats and dogs, and may be carcinogenic to humans.
There's a useful little first-aid section for houseplants and excellent photos of all the plants, so the book could be a useful starting point for what Lambell calls "new plant parents".
The Plant Rescuer
Sarah Gerrard-Jones
Bloomsbury, hardback, $42.99.
Described as "a self-taught houseplant obsessive", who started with orchids rescued from a rubbish bin, Sarah Gerrard-Jones has turned a passion into a profession.
The Plant Rescuer starts with a buyer's guide, which rightly argues that the choice of a houseplant should be determined "by the conditions that you can offer the plant within your home".
She covers buying from stores, online and making secondhand purchases, as well as expressing concern about the illicit trade in rare plants.
There's a good section on plant care before Gerrard-Jones gets into the actual plants, dividing them into sections according to whether they need low, moderate or bright light.
After that, she looks at rescuing sad, neglected houseplants before rounding off The Plant Rescuer with an excellent section on propagation.
Green Thumb
Craig Miller-Randle
Pan Macmillan Australia, soft cover, $44.99.
After two titles from the UK, here's one from an ABC Gardening Australia presenter Craig Miller-Randle.
Green Thumb has an A-Z of some 70 beautifully photographed indoor plants, not all of which are as easy to grow as those in the previous two books — but who could resist trying an African violet (Saintpaulia ionantha), now back in fashion? Easy string of pearls and string of hearts are here, too, so there's something for every skill level.
Miller-Randle pays a lot of attention to soil, pots and repotting, giving recipes for three mixes for different groups of houseplants.
Light and location, and pests and diseases follow, then an innovative section on using houseplants as "the ultimate indoor art". Propagating, including air-layering, rounds off an interesting and well-illustrated book.
Green Thumb is my pick of the three. Perhaps I could try another peace lily with this book to guide me?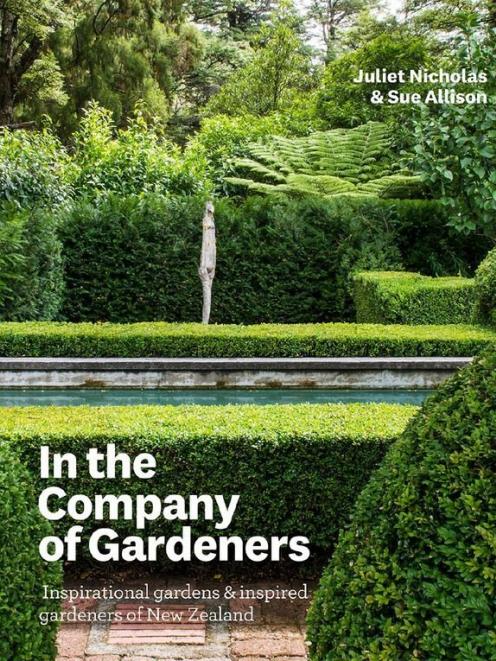 In the Company of Gardeners
Juliet Nicholas and Sue Allison
Godwit soft cover, $55
After houseplants, it's time to step outside and look at 18 amazing New Zealand gardens through Juliet Nicholas' brilliant photography and Sue Allison's informative text.
There are some well-known gardens, notably Broadfield and Ohinetahi, both in Canterbury, alongside newer creations by Gordon Collier and Julian Matthews.
It's the southern gardens that will excite readers, though. In the Company of Gardeners features five, three in Central Otago and two in Southland.
Mike Henry's Chantecler, between Queenstown and LakeHayes, is on the grand scale, with mass planting of spring bulbs, roses, lavender and peonies among the attractions.
In contrast, Jo Wakelin's 12ha property near Cromwell was inspired by visiting Beth Chatto's dry garden in England. Her plants, as she says, "aren't just drought-tolerant … they are drought-loving".
The third Central Otago property featured in In the Company of Gardeners is different again, as Randolf and Marty Holst's garden on the hills above Lake Wanaka concentrates on food production. They harvest some 2 tonnes of fruit, nuts and vegetables annually from their 3000sq m garden, where trees are espaliered to save space and pumpkins are grown vertically.
Food production is important to Robyn and Robert Guyton, of Riverton, too, whose food forest goes back to the 1980s when such a concept was virtually unknown.
Himalayan lilies (Cardiocrinum giganteum) tower over one of Maple Glen's ponds.
How the two former teachers learned to embrace the land is one of the best pieces of Allison's writing in the book.
Nicholas' photography peaks in the coverage of Maple Glen, near Wyndham, where Muriel and Bob Davison transformed a struggling farm into a "must visit" garden.
Now, after more than 50 years, their son Rob leads the project, although Muriel ("the monarch of the glen") and Bob still play their part in this splendid 30ha garden.
In the Company of Gardeners is a lovely book; earmark this as a gift or buy two and keep one for yourself.